FOSTER SHELTER:
SITE DETAILS AT A GLANCE
Address: 6144 SE Foster Road
Size of property: 13,390 sq. ft.
Beds: 100 to 120
Lease amount: $1/sq. ft, rising to $1.21/sq. ft
Length of lease: 10 years, with two five-year options
Property owner: Winson International LLC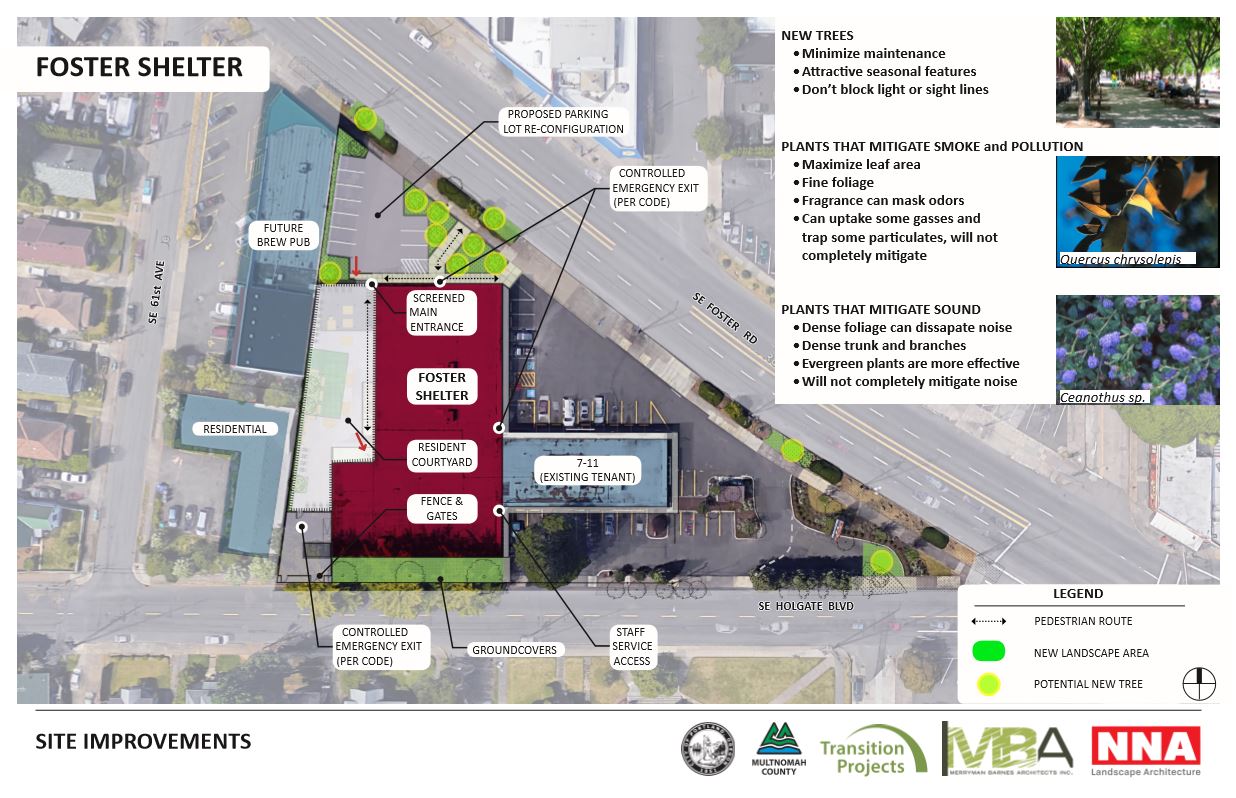 PROGRAMMING and amenities
Many residents have asked whether there are adequate services nearby to support the shelter. Many of the concerns appear to assume that the shelter will provide overnight sleeping accommodations only. That is not the case. This site is large enough to allow space both for night-time sleeping space and daytime activities and services.
Shelter residents will have 24-hour access to the facility. And they will have access to a range of services on site, including food, hygiene, storage, computers, and a variety of social services. Though the site is accessible 24 hours, to accommodate shift workers or residents with class schedules, most shelter guests will be subject to a general nighttime curfew.
Learn more: See the full list of adult shelters operated by Transition Projects, and learn more about policies and programming.
The space will be designed with an outdoor courtyard so that people can gather outdoors, socialize, smoke, etc. without having to leave the building. That area will allow guests to be with their pets. Items such as waste bags are also available if residents wish to take their pets off site.
Learn more: Read Transition Projects' guidelines and expectations for guests who are caring for pets or service animals. (PDF)
The building is close to several very important services. Within a short walk or bus ride there is the Worksource center, a community center, Portland Community College, a library, and a wide range of retail services on 82nd Avenue.
There is not a concentration of facility-based social services. But because the site is close to frequent public transportation service, individuals needing to reach clinics and other site based services will be able to do so.
MODEL REDUCES IMPACTS ON NEIGHBORS
This model provides a more stable and supportive environment for guests and reduces the potential impact on surrounding properties by eliminating queueing and the need for people to remain in the neighborhood with their belongings during the day.
The shelter services are only available to registered guests who have reserved beds. Guests can make reservations at a day center downtown, or over the phone. There will not be walk-up day center services, reducing the risk that people without shelter will congregate or choose to camp near the shelter.
Residents at other shelters will not be moved directly to the Foster shelter once it opens. The shelter's operator will work with neighbors and businesses, before and after the shelter opens, to identify people in the neighborhood who would benefit from the shelter.